Wanted to share this fabulous find from
Family Fresh Meals
. I made this the other night and well it was delicious. I went to make this on Tuesday night for dinner and had it all prepped and ready to turn the crock pot on before I left for school and work in the morning. My poor husband and daughter got home for school and work and I asked them to check on it and shred the chicken for me. Phone rings and darling husband asks if it is supposed to be raw? Oops FAIL!
So I try again on Wednesday to make the the best BBQ Crock pot Chicken ever and the 6 year old little princess say's "Mommy today I will hit start once you have everything in the crock pot". Gosh I sure do love her and don't know what I would do without her. So glad I had them little fingers to help me. Dinner was simply amazing in a bun or over rice so yummy.
The Best Crock pot BBQ Chicken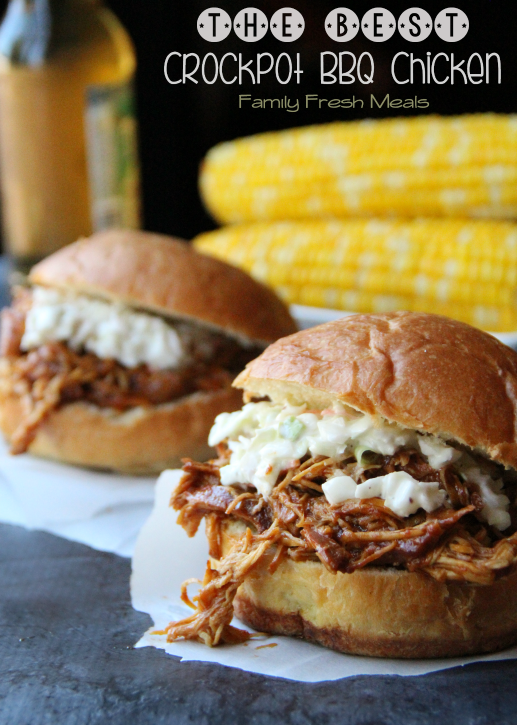 INGREDIENTS
2 lbs boneless, skinless chicken breasts
1 cup BBQ sauce
¼ cup Italian dressing
¼ cup brown sugar
1 tbsp Worcestershire sauce
salt to taste
INSTRUCTIONS
Season chicken breast lightly ( a small pinch per breast) with some sea salt and place in your crock pot.
In a mixing bowl combine BBQ sauce, Italian dressing, brown sugar and Worcestershire sauce. Stir until well combined.
Pour over chicken, cover and cook on HIGH for 3-4 hours
Once time is up, you can serve the breast whole, or shred with 2 forks. If shredding, recover and let cook in sauce for about 10-15 more minutes to soak up all that delish flavor.
Serve on buns, over rice, in wraps, on a salad or eat a plateful as is! Our favorite way is on fresh rolls, topped with coleslaw.
Thanks again to Family Fresh Meals for a wonderful recipe.